To upload a single product, click on the "Showroom" tab on the top navigation bar and once you are in the showroom,  then click on "Add Product" button. 

This will open add product flow, divided in 3 pages. Page 1 allows entering product information, page 2 allows uploading images of the product and page 3 provides features for entering variants & inventory.
Here, all the fields marked with an asterisk are required. Each product requires a name, a SKU (a unique identifier for the product - e.g., ACME001), and a category.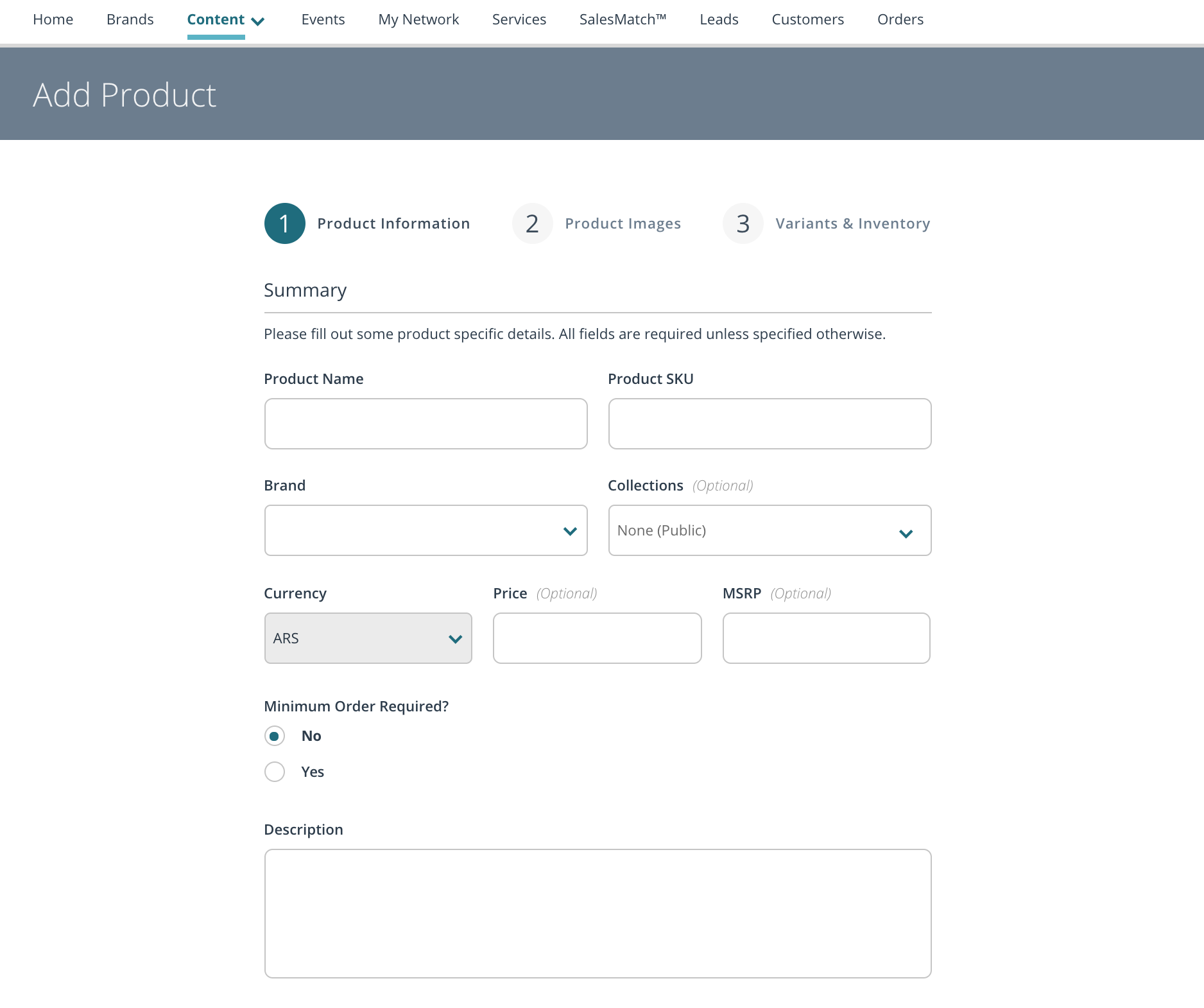 Under "Brands & Collections", you must select a brand. If you haven't created one yet, your brand is simply your company name. If you have multiple brands under your company, you have a chance to associate your product with a brand here. You're able to select a collection as well. 
 Minimum Order required? selection of radio button has default selection of 'No'. This selection helps seller specify whether a minimum number of products are required for purchasing the product. (ex: Unless you choose 5 of the product, you cannot buy the product.).
Next, you can enter  a product description, categories, tags, select or enter values in custom order fields. 
Visibility Settings: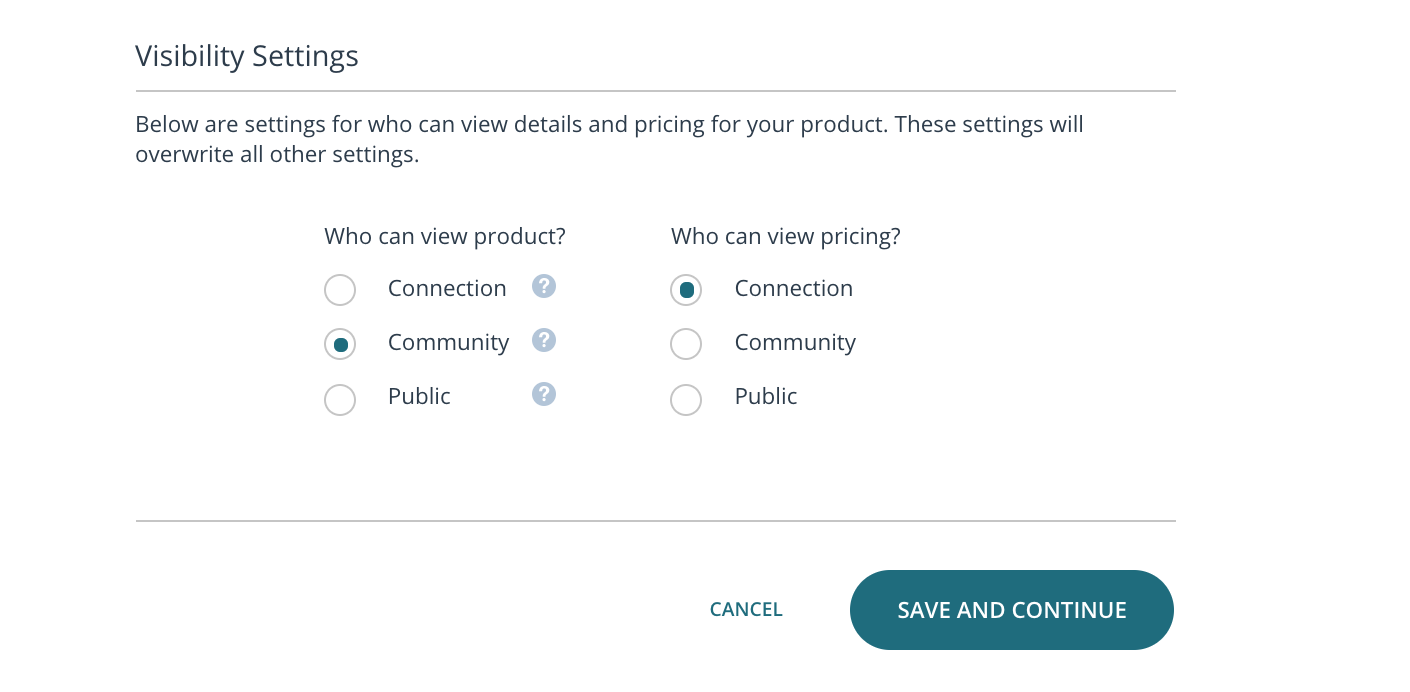 Visibility settings allows seller to specify who can view the product and price from options (Connection, Community & Public).
Step2 - Product Images: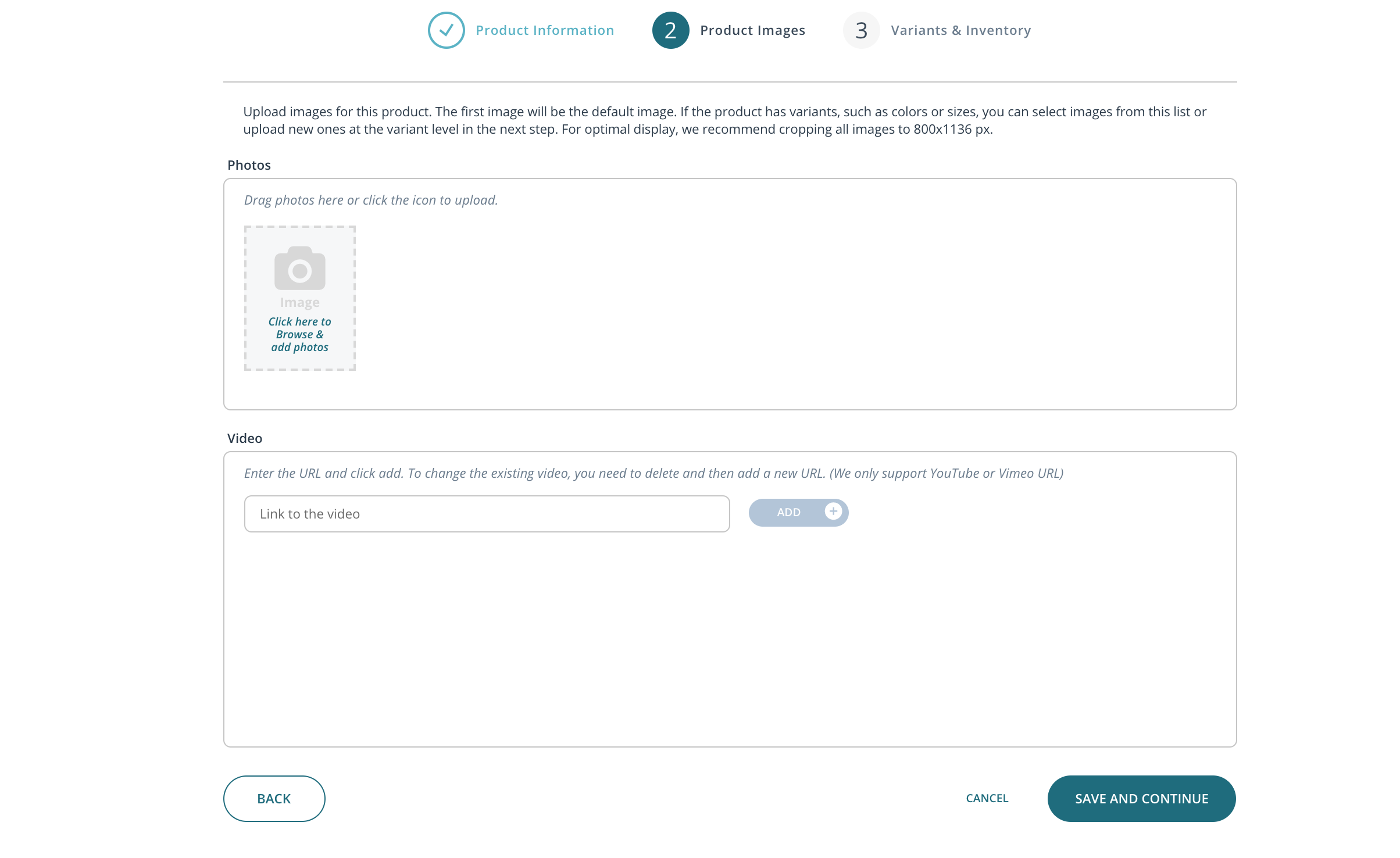 This page allows uploading images of the product. At least one image is required to save & continue. You can also enter a URL for video link and click on 'ADD' button. You can add any number of images but only one video link. If you want to change the video link, you have to delete existing link and then add the new link. Click 'Save and Continue' to move to the next page.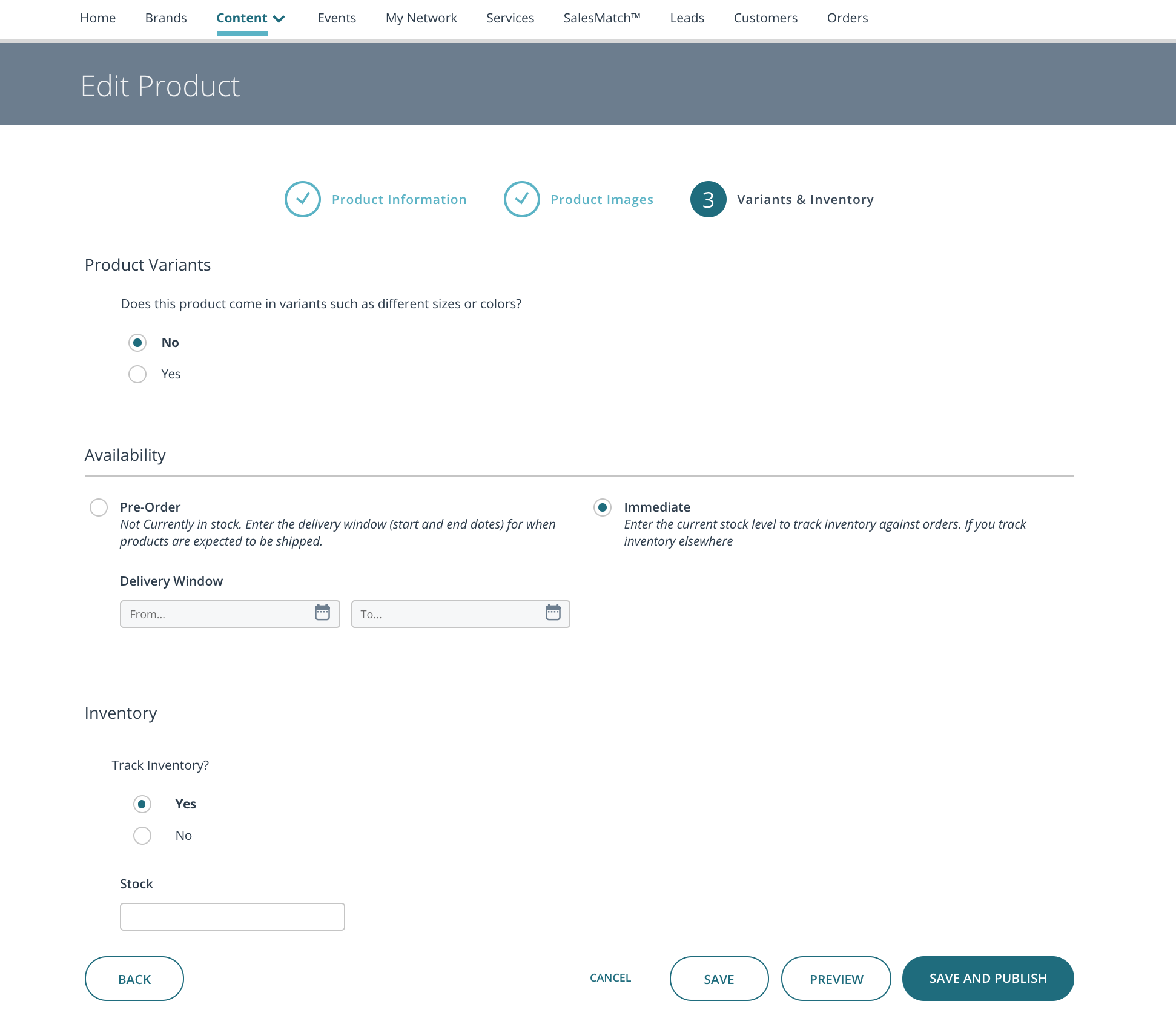 If the product has no variants, select 'No'.  If the product is available immediately, select radio button for 'Immediate'. Select 'Pre-Order' if product has to be pre-ordered and and pick the start date and end date of the delivery window using the calendar picker.
Tracking inventory feature allows tracking stock by entering the available quantity. If tracking is not required, select 'No'.
Variants:
If product has variants, select the radio button 'Yes', and this exposes the variant types as per the domain setup.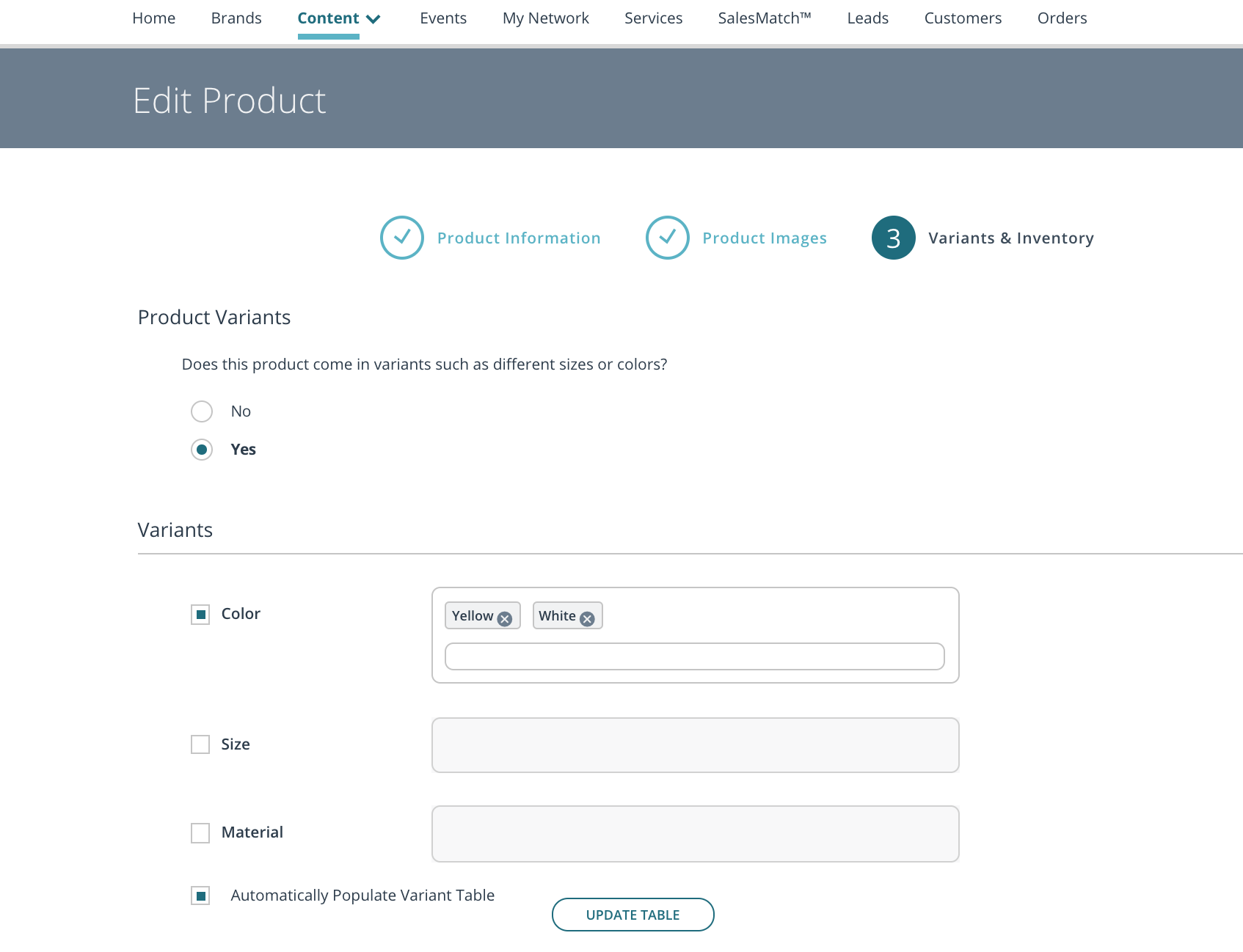 The screenshot above displays variants as Color, Size & Material since those are the variants set up by domain admin. Seller can select whichever variants he wishes to add by checking the check box and enter values.
Example for entering variant value: Either select from existing values or type in a new value and hit enter. Clicking on 'Update Table' button will update the variant table and seller can click on 'Save & Publish' button to save the data & publish the product.

 Seller can also manually edit the variant detail table. Availability can be selected as 'Immediate' or 'Pre-Order'. If 'Pre-Order' is chosen, the date picker view will be available for seller to select start and end dates. Clicking on the variant image will allow changing the image to another image from the list uploaded fr this product. You have  choices in saving (Save & Save and Publish). Preview allows previewing the product before publishing.