Click on the "My Account" menu on the right hand side, and select "Promote" in the dropdown.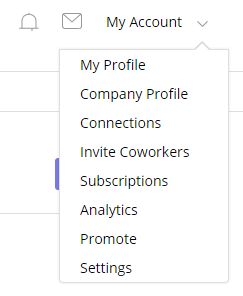 Click on "Add a Campaign" to get the process started. 
Step 1: Choose how you want to advertise
There are two types of advertisements. Each advertising spot is associated with a specific price (CPM).
Featured Brand: On the buyer's shop landing page, your brand, along with six others, will be shown on a rotation basis in a prominent position. 
Brand Carousel: On the buyer's shop landing page, your custom banner will rotate in the most dominant position. 
Click the one you want and then click "Next". 
Step 2: Choose the brand you want to advertise
Click the one you want and then click "Next". 
Step 3: Customize your campaign
On this screen, you'll have the option to:
Name your campaign
Set your daily budget
Choose an ad image
Schedule your campaign
Add a payment method
Campaign Name
Your campaign name will be shown underneath your advertisement. 
Set Daily Budget
Set the maximum daily amount that you want to spend for this advertising campaign. Depending on the budget you set, the number of times (also called "impressions") your brand will be shown will adjust accordingly. Remember, the CPM (cost-per-mille) is the dollar amount for every 1000 times your brand is shown. 
In this example, since the CPM is $20 and your budget is $50, the maximum number of impressions per day to be shown would be 2500 ($50/$20 * 1000 impressions).
Choose Ad Image
This is the image that represents your brand on the shop landing page. By default, this is a picture of your brand, but you have the option to change it to whatever you'd like. The sizes of the ad image differ depending on whether you chose the carousel advertisement or the featured advertisement.

Optimal Image Sizes:

Featured: 220px by 220px
Carousel: 720px by 290px
Schedule Campaign
By default, the campaign is scheduled to start automatically upon creation and requires the user to end the campaign manually, but there are customization options if you'd like your campaign to start and stop in a certain time frame. 
Add Payment Method
If it's your first time creating an advertising campaign, you'll be prompted to add a payment method. You can change the payment method later by editing your campaign or by going to My Account > Settings > Payment Settings > Advertising. 
If it's your first time creating an ad, you'll need to agree to the [Terms and Conditions]. After that, you're all set to start your campaign. 
You're now ready to start your campaign.